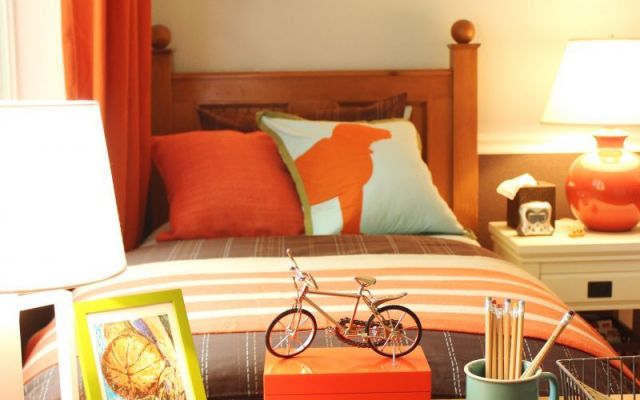 It's no secret I love designing rooms for kids! Creatively, the scope is a little wider, and kids love "stuff", and so do I, so I get the excuse to go a little nuts. The smaller clients (although this one is almost as tall as me) are always so enthusiastic, I daresay elated, and proud of their newfound room identity. In this case, the refusal to go to their room, was instantly replaced by the refusal to leave.
I always start a kids' room off with a color story. Most kids like a handful colors, so to narrow down the choices I ask what colors are NOT your favorite, and work backwards. Then I interview about interests (my HR skills come in handy here). I incorporate interests in variety of ways; it doesn't have to be a roomful of literal symbols of hobbies and interests. The room can get too "themey" and this outdates in no time, because their interests change so fast, and sometimes too much is just too much. A well-designed room needs to have longevity--but we also have a kid to please.
The J-man has a lot of interests. He has his beloved dog, Sadie, the canine star of his mother's nationally popular food blog NoblePig.com. He loves basketball, the color orange, blue and brown and his favorite player is Mr. Michael Jordan (who everyone and their dog knows played for the Bulls).
These are the stats I went on to start his room, and it started with the Buddy Pillow (which I am sorry to report is now sold out at Serena and Lily). This pillow was chosen in honor of our Dear Sadie and represented his color preferences right on. Serena and Lily hunted down the very last pillow, luckily found in their Hampton's store and shipped it all the way across the country for Big J. (I always get such superb service from Serena and Lily- I am a BIG fan of not only the quality and style of their products, but how they carry themselves as a company). The Buddy pillow has great colors, a blue that reads on the green but not aqua side with an earthy but sweeter green border, a white "Sadie" silhouette with bright orange color blocking. The entire room was built on this combo, anchored with a dramatic brown, color matched to, yep, you guessed it, Miss Sadie. I guess you could say, Sadie shares this room with the J Man. Her spot is under the second bed so she had to like it too (therefore, no bed skirts so she is able to scoot right on under to her spot). To be honest, Sadie has a designated spot in every room, really. If there were a house in the world to be a dog in, it's this one. (Lord, if I die, please let me come back as this family's dog). Back to the J-Man.
The brown is also tied to Johnny's curls. It took me a few years to say hello to Johnny without touching his head. I could always count on blushing with an eye roll in return. He had (and still has a few) of these rich chocolate brown curls…add that to a set of deep dimples anchored by a huge smile and we've got the J-man. So as you can see, I have seen him grow over the years, and watched him be very patient about his very own big guy room. It was an extra special project to me.
So here it is!
My client has generously Ok'd me to publish some of the resources-which most are store bought, but used in a very custom way to give a unique look.
Enjoy!
Resources:
Bedding and Drapes
Brown bedding (duvet cover and shams) Pottery Barn kids
Pic-stitch throw in pool– West Elm
Drapes in orange– IKEA
Buddy dog pillow – Serena and Lilly
Blanket in Pool – West Elm
Euro sham in Pool – West Elm
"Bull" pillow in orange – PB Teen
USA pillow – PB Teen
Solid orange pillow – West Elm
Orange and Tan Striped throw blanket
Furniture
Desk –Pottery Barn Teen
Beds (pre-existing in the room)
Nightstand – Pottery Barn Kids Teen
Walls
Wall Color – Benjamin Moore Fantasy Blue + Branchport Brown (Trim- to match existing)
USA Reclaimed wall plank – Pottery Barn
Steer head – Etsy
Marquis "J" light – The Rusted Key (Etsy)
Hoops reclaimed typography plaque (Etsy)
Watercolor basketball – Art.com
Lighting
Orange "ball" ceramic lamp – Lamps Plus
Bronze ball lamp with jute shade – World Market
Modern White desk lamp with orange cord- Target
Accessories
Desk Box – orange lacquered – The Container Store
Kleenex box in woven brown– The Container Store
Brown woven basket under nightstand – Target
The Ball Claw basketball holder – The Container Store